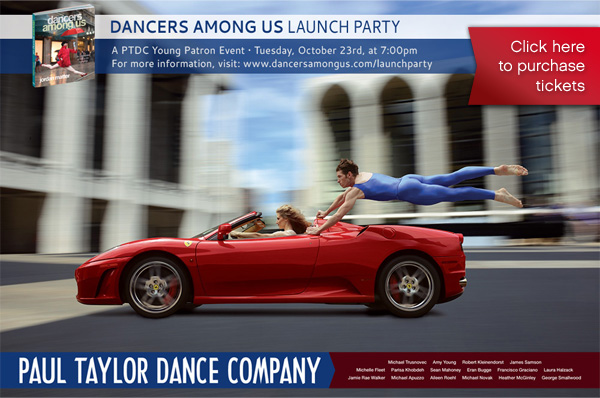 Dancers Among Us
Launch Party


A PTDC Young Patron Event

Tuesday, October 23, 2012
Celebration begins at 7:00pm

Paul Taylor Dance Foundation
551 Grand Street
New York, NY 10002
Come celebrate the release of Jordan Matter's Dancers Among Us (Workman Publishing) with the company who inspired the project, Paul Taylor Dance Company. Join the NYC dance community for an exciting evening. You'll have a chance to win great prizes, including posters and tickets to PTDC's season at Lincoln Center (with backstage passes!). This is a night to celebrate all the Dancers Among Us!
Tickets are $40 and include an autographed
Dancers Among Us book & 3 drink tickets!
Each glass of wine is equal to 1 ticket, 2 tickets for Taylor-tinis.
Purchase Your Tickets Here

Special thanks to: